WELCOME TO THE US VISA APPLICATION CENTER IN TORONTO
Start the process now by providing the information required for DS 160 US visa interview form.
Please note that usvisatoronto.com is a non-government organization set up to assist applicants with the complexities of a US VISA APPLICATION. US Visa Fees charges are $211.98+HST.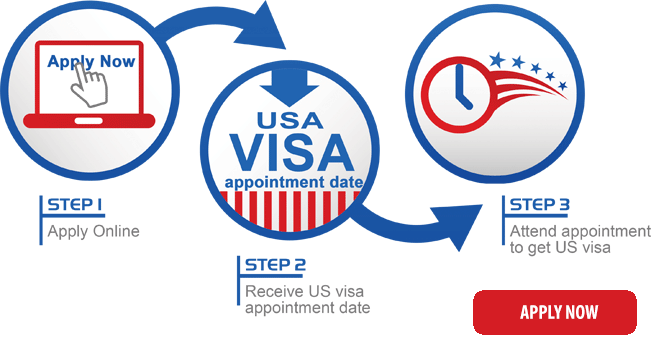 Read Terms and Conditions If you decide to visit the United States and you are not a Canadian passport holder, but permanently reside in this country, you require entry visa or at least electronic authorization to travel - ESTA (for the citizens of the following countries: Andorra, Australia, Austria, Belgium, Brunei, Czech Republic, Denmark, Estonia, Finland, France, Germany, Greece, Hungary, Iceland, Ireland, Italy, Japan, Latvia, Liechtenstein, Lithuania, Luxembourg, Monaco, Netherlands, New Zealand, Norway, Portugal, Republic of Malta, San Marino, Singapore, Slovakia, Slovenia, South Korea, Spain, Sweden, Switzerland, United Kingdom)

What we do
We will help you with the most difficult part of getting USA visa - obtain visa interview. Currently we assist with processing B1/B2 visas only.
After you fill-out on-line form our experts will:

- review all your information.
- advise you if anything is missing or not clear.
- transfer all received data and your photo to the computers of the US government.
- book you for the nearest available date to submit passport and other US visa application documents to visa officer.
- provide you with Machine Readable Visa (MRV) transaction slip proving that government fee has been paid and interview appointed.
- advise you on the documents you need to bring with you for US visa interview.


Who is eligible
You are eligible to get US visa in Canada in the following cases:
- you are resident of Canada with your valid foreign passport and have one of the following documents: PR Card, Work Permit or Study Permit.
- you are holder of Travel Document issued by Passport Canada Agency.
- you are visitor to Canada with your valid foreign passport (Note: if you apply, your appointment date may happen not earlier than 6 months from the application date.) Note: The final decision on granting visa is determined by visa officer during the interview.

Fees (in USD)
To book the interview for US visa the following fees must be paid:



Application processing fee: $211.98 (+HST)
US Government fee: $160
(Both fees are absolutely NON_REFUNDABLE)


Please, note that usvisatoronto.com is a part of visacenter.ca - private Canadian company with offices nation-wide, USA and UK. As a private enterprise not in any way related to US authorities we are working for you and not US government, and will do our best to obtain you the interview date. At the same time as in case with any other travel visa the decision on visa to USA issuance is totally in the hands of US visa officer. Fees paid are non-refundable and are paid for the US VISA application used on this website. We reserve the right to respond to you within 2 business days after receiving your application. The process of getting US visa involves preparing your application and all required supporting information as well as booking the nearest possible interview date which may take from 1 to 6 weeks.

WHAT IS NEXT?


Start the process now by providing the information required for DS 160 US visa interview form.








Note: If you have problems with filling out on-line form you may print out the following US visa manual application form, fill it out by hand and mail/bring to our office. There is an additional charge of USD150 + hst if you choose to use this method of applying for US visa.

Adding family members to your application.
If you want to apply together with other close member(s) of your family, you need to submit the form and pay for yourself first. Then just submit the form but do not pay for other family member(s) and inform us by email that you have submitted additional application. The fee for additional person is only USD260.

Rescheduling US visa appointment.
If due to any reason you need to reschedule already booked US visa interview appointment, please let us know at least 48 hours before appointment date and we get you new appointment date. The fee for this service is USD60 +HST per applicant.

Note: ESTA eligible citizens could visit our ESTA application page for requirements, processing timings and fees.
| | | |
| --- | --- | --- |
| | | |
| | | |